Competition Panel
The following individuals will serve as members of the panel:
Jerold S. Kayden
Frank Backus Williams Professor of Urban Planning and Design, Harvard University, and President, Advocates for Privately Owned Public Space (Presiding Panelist)
Jerold S. Kayden, an urban planner and lawyer, is the Frank Backus Williams Professor of Urban Planning and Design at the Harvard University Graduate School of Design and President of Advocates for Privately Owned Public Space (www.apops.mas.org). He teaches, writes, and consults in the areas of land use and environmental law, public-private real estate development, public space, urban disaster resilience, and design competitions. His books include Privately Owned Public Space: The New York City Experience; Urban Disaster Resilience: New Dimensions from International Practice in the Built Environment; Landmark Justice: The Influence of William J. Brennan on America's Communities; and Zoning and the American Dream: Promises Still to Keep. Professor Kayden is principal constitutional counsel to the National Trust for Historic Preservation.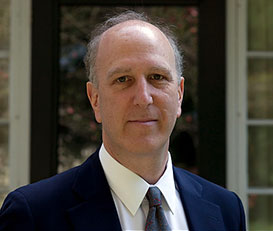 Glen Cummings
Creative Director, MTWTF
Glen Cummings is the creative director at MTWTF. Glen collaborates with a wide range of clients to translate complex content into engaging visual and environmental experiences. Glen operates as an editorial adviser and designer, driving the narratives that shape MTWTF's response to the topics concerning organizations today—from housing shortages to New York City's music scene. Glen's work with the public sector includes projects commissioned by Newark Riverfront Park, Astor Place, and Brooklyn Public Library. Glen has served as Vice President of AIGA/NY, a fellow for the Design Trust for Public Space, and is the founder of GDNYC, a consortium of designers and educators that promote design research.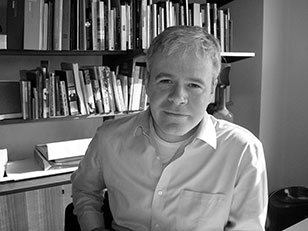 Katherine Farley
Chair, Lincoln Center for the Performing Arts
Katherine Farley recently retired as Senior Managing Director of Tishman Speyer, a global property developer and fund manager. She serves as Chair of Lincoln Center for the Performing Arts after having been appointed in 2010. She was Chairman of the Lincoln Center Redevelopment Project from 2006-2010, a $1.2 billion comprehensive renovation of the campus. Ms. Farley is a Co-Chair of the International Rescue Committee, a nonprofit organization that focuses on emergency relief and resettlement of refugees. She serves as a Trustee of The Rockefeller University and The Andrew J. Mellon Foundation. She received her BA from Brown University and Masters in Architecture from the Harvard Graduate School of Design.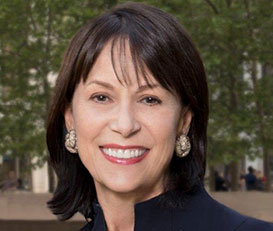 Elizabeth Goldstein
President, The Municipal Art Society of New York
Elizabeth Goldstein joined the Municipal Art Society of New York as its President in February 2017. Elizabeth has an extensive background in parks and historic preservation advocacy and management. Throughout her career, Elizabeth has worked to insure transparent public engagement in civic decisions of consequence to public space and the heritage of key places across the United States. Prior to returning to her NYC roots, Elizabeth was most recently the President of the California State Parks Foundation from 2004 to 2016. Prior to that she was the General Manager of the San Francisco Recreation and Parks Department (1999 to 2004), and the Western Director of the National Trust for Historic Preservation (1994-1999). Her work in parks includes the New York City Regional Director of the New York State Office of Parks, Recreation and Historic Preservation (1989-1994), the Director of Planning for the New York City Parks Department (1986-1989), and the Chief of Staff of the Manhattan Borough Office of NYC Parks. Elizabeth graduated from Beloit College. Elizabeth is a past co-chair of the City Parks Alliance and board member of numerous nonprofit boards.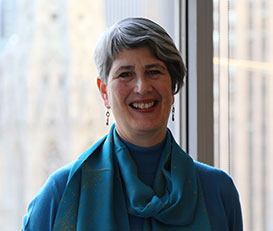 Marisa Lago
Director, New York City Department of City Planning, and Chair, New York City Planning Commission
Marisa Lago is the Director of the New York City Department of City Planning and the Chair of the New York City Planning Commission. Prior to City Planning, she served in the Obama Administration as the U.S. Department of the Treasury's Assistant Secretary for International Markets and Development. Before serving at Treasury, she was the President and Chief Executive Officer of New York Empire State Development Corporation, Global Head of Compliance for Citigroup's corporate and investment bank, Director of the Office of International Affairs at the Securities and Exchange Commission, Director of the Boston Redevelopment Authority, and General Counsel of the New York City Economic Development Corporation. Lago earned a J.D. cum laude from Harvard Law School (1982), and a B.S. in physics from Cooper Union (1977).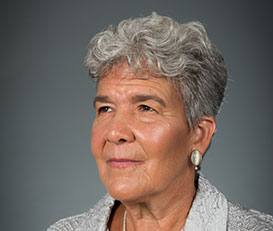 Kim Mathews
Principal Emerita, MNLA
Kim Mathews, FASLA, RLA is a founder and Principal Emerita of MNLA, a nationally recognized landscape architectural practice in New York City. MNLA has received over 100 design awards, and the firm's portfolio is a reflection of her leadership and ability to achieve consensus on the most complex design issues while guiding teams to outcomes that are sustainable, practical, and inspiring. Throughout 35 years of practice, Kim's design approach has been solidly grounded in research, planning, ecosystem restoration, and robust community engagement. She received an MLA from the University of Pennsylvania and a BFA from the University of North Carolina at Chapel Hill.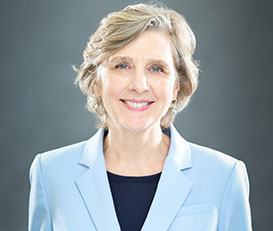 Justin Garrett Moore
Executive Director, New York City Public Design Commission
Justin Garrett Moore is an urban designer and the Executive Director of the New York City Public Design Commission. He has extensive experience in urban planning and design—from large-scale urban systems, policies, and projects to grassroots and community-based planning, design, and arts initiatives. At the Public Design Commission his work is focused on prioritizing quality and excellence for the public realm, and fostering accessibility, diversity, and inclusion in public buildings, spaces, and art. He is a member of the American Planning Association's AICP Commission, the Urban Design Forum, Next City's Vanguard, Columbia University GSAPP's adjunct faculty, and a co-founder of Urban Patch.